If you know anything about me, you know I love old movies, music, and fashion. Especially from the 1940s to the 1960s. There is just something so elegant and glamorous about the beauty and style from that time period.
Due to my love for old Hollywood makeup and fashion, I decided to search for beauty tips from some of my favorite vintage actresses. I thought I would come across some cute tips, like 'wear read lipstick' and 'be kind', but there was some weird shit. So, here's a list of the genuinely good, interesting, and strange tips I've discovered.
1. Marilyn Monroe
Despite tanning not being a huge trend in the 50s, Marilyn Monroe still didn't recommend it. She once said in a interview with Pageant magazine in 1952, "Despite it's great vogue in California, I don't think sun-tanned skin is anymore attractive than white skin, or any healthier, for that matter. I'm personally opposed to a deep tan because I like to feel blonde all over."
2. Audrey Hepburn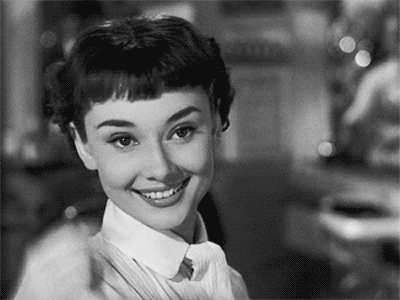 Allegedly, Audrey Hepburn's makeup artist, Alberto de Rossi, used to separate each of Audrey's lashes with a safety pin. To me, this goes on the strange list but feel free to try it out for yourself. Someone at Marie Claire did actually try it and it kinda worked, so maybe Audrey and Alberto were onto something. (?)
3. Grace Kelly
According to Peter Lamas, who worked with Grace Kelly, she was cautiously aware of how important moisturizing is to the aging process. When he saw Grace repeatedly reapplying hand cream he asked her,"When I asked her why, she replied, 'A woman's age shows on her hand much quicker than anyone else."
4. Carole Lombard
In 1962, Carole Lombard was in a car accident which caused Carole to need to undergo facial surgery. The accident left her with a small scar and a slightly crooked nose. To cover this up, Carole used small makeup techniques such as applying a straight white line on her nose to make it seem like she had a straight nose.
5. Gloria Grahame
Before the Kylie Jenner lip challenge was a thing, Gloria Grahame was already trying to get the appearance of bigger lips. Apparently, she thought her upper lip was too thin. Gloria then tried to solve that problem by stuffing cotton or tissues under her lip.
6. Sophia Loren
Its a known fact that Sophia Loren aged gracefully and beautifully. It's allegedly due to the fact she used to keep her skin soft by taking bathes with olive oil. Which is apparently a really good idea. Olive oil is filled with vitamins A, D, K, and E. It also apparently keeps your skin smooth and protected. (Here's a really good article about all of olive oil's benefits in case you want to try it out.)
7. Joan Crawford
Joan Crawford was a beautiful woman with gorgeous brown eyes that were thought of as her best feature. In Joan's book, My Way of Life, Joan admitted to that she would put pad soaked with boric acid over her eyelids. Boric acid apparently kept her eyes bright and alert.
8. Katharine Hepburn
If you've ever seen a movie or even a picture of Katharine Hepburn, you know two things: 1. Shes a talented actress. 2. She had really smooth skin. Apparently, Katharine would keep her skin soft and clear by exfoliating a mix of sugar, warm water, and lemon juice onto her face. After exfoliating, she would splash ice cold water on her face.
9. Jean Harlow
Jean Harlow was a 1930's star who was known for her platinum blonde. Back then, there was no safe hair dye that could get Jean's platinum color. Her hairdresser, Alfred Pagano, once said,"I used to bleach her hair 'platinum blonde'… We used peroxide, ammonia, Clorox, and Lux flakes! Can you believe that?" Apparently, she did that weekly. Which lead to her hair to fall out, which also lead to Jean to wear wigs and changing her hair color. Would not recommend doing this.
10. Marlene Dietrich
The book Max Factor: The Man Who Changed the Faces of the World claims that Marlene Dietrich used to 'insist' on having 'compressed gold' sprinkled onto her wigs to give her hair more of a shine and glow on camera. I'm not sure if this tip falls into the strange or genius territory – you tell me.
If, you try out any of these tips please tweet your results to me. I would love to see how they turned out for you.
Follow Me!